Only affects cells
Did you know that your unwanted skin spots and bumps (benign lesions) are made up of cells? Which is why the CellFX® procedure is the ideal choice. This unique procedure uses patented Nano-Pulse Stimulation™ (NPS™) technology to apply ultrafast energy pulses to reach skin lesions within the treatment area. Because NPS technology affects cells and only cells, it doesn't harm the healthy, non-cellular collagen foundation that surrounds the lesion. So new cells regenerate and renew, for a natural, healthy appearance. 1-4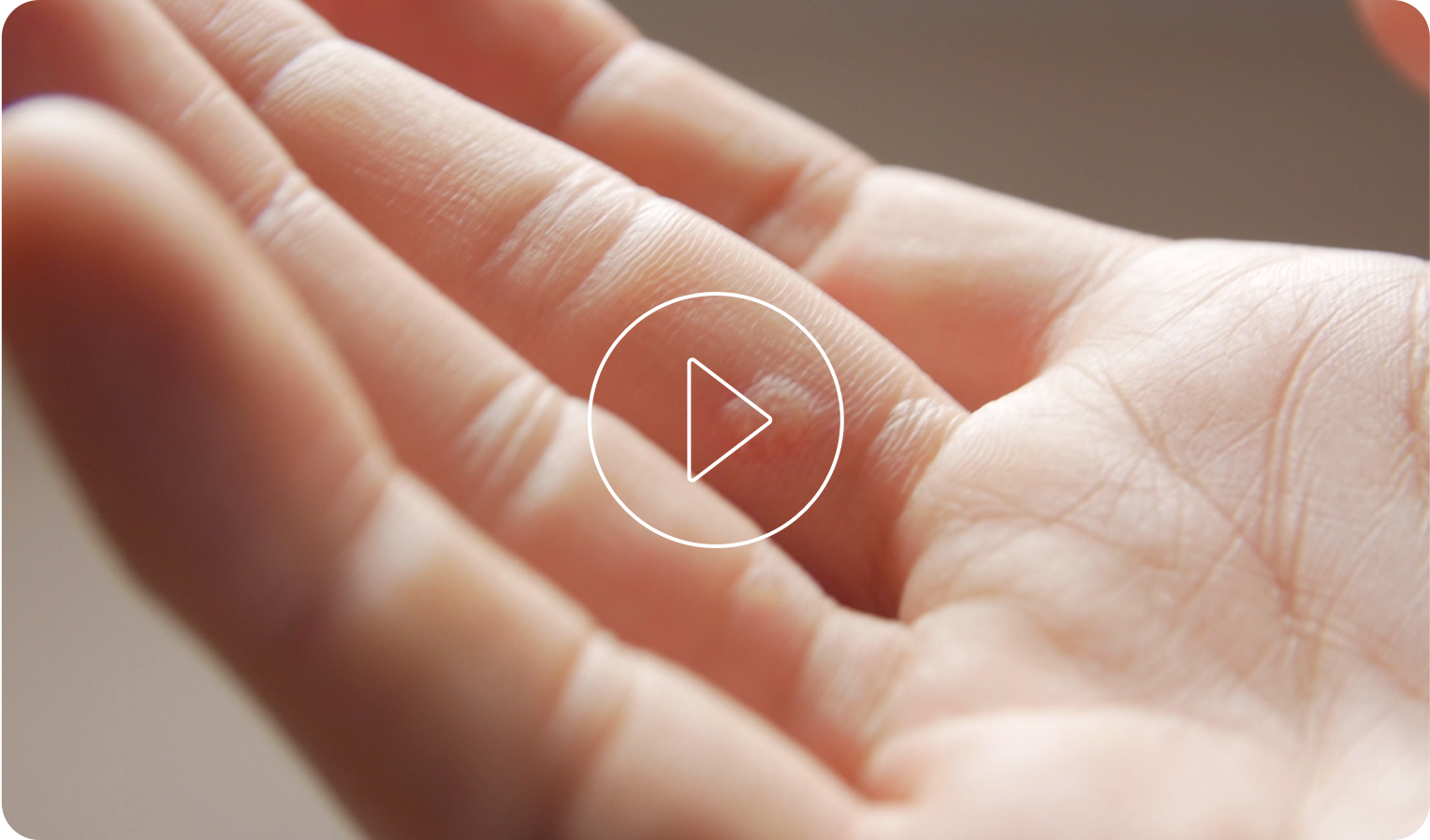 Hard-to-treat just got easy
Spots and bumps are challenging to treat because they are surrounded by healthy skin tissue. They are also like icebergs – you only see what's on the surface and have no idea how deep into the skin layers the lesion goes. Traditional methods such as freezing, heat or chemical application may cause undertreatment or overtreatment due to the uncertainty of how deep the skin lesions lie in the layers of the skin. These methods may result in scarring, and lesion recurrence. The cell-specific, non-thermal NPS technology used in the CellFX procedure reaches skin lesions at any depth within the treatment area. It clears the lesion and spares the collagen foundation of the skin, preventing unnecessary damage and reducing the risk of scarring.1-4
What can I expect?
The CellFX procedure is an energy-based method of clearing benign skin lesions. Individuals experience energy-based procedures differently and the experience can vary depending on location of your lesion, individual sensitivity, anesthesia technique used, and response to anesthesia. Here is generally what you can expect from the CellFX procedure.
Pre-Procedure
Your doctor will measure and may mark each lesion to be treated. Each lesion area will be numbed with a local anesthetic injection.* Your doctor will then customize your procedure by selecting the suitable treatment tip and treatment level.
*With local anesthesia, patients reported feeling no pain to mild pain during the procedure depending on individual sensitivity of the patient.
During the Procedure
The treatment tip will be placed on each lesion and microneedles will surround the lesion in your skin. While the energy pulses are being delivered, you may feel a mild sensation such as tapping, minor twitching, or muscle stimulation – which are normal reactions because the nervous system communicates and functions via electric energy signals. These potential reactions are temporary and should subside after the procedure is complete. If you feel discomfort, let your doctor know and your doctor may choose to administer additional anesthesia.
Post-Procedure
Most patients can immediately return to normal activity after the CellFX procedure. Immediately after the procedure, your doctor might use a healing ointment to protect each area and cover with a small bandage. The healing process and period of time can vary by individual depending on the size, type of lesion, location of lesion, your skin type, and natural variations in healing rates. Follow the post-procedure care instructions provided by your doctor.
"Right after the procedure, it was a little tender. But it didn't hurt at all to walk. The next couple weeks, it was healing. It looked gross but it didn't hurt at all. Nothing was uncomfortable. It didn't stop me from moving, walking, just a blood blister. But really nothing, no pain. Especially versus what I've had done in the past. I've had way worse blisters. I've had [steroid] shots where they really do hurt for a couple of weeks. So, this [the CellFX procedure] was nothing."
– Melissa L, Colorado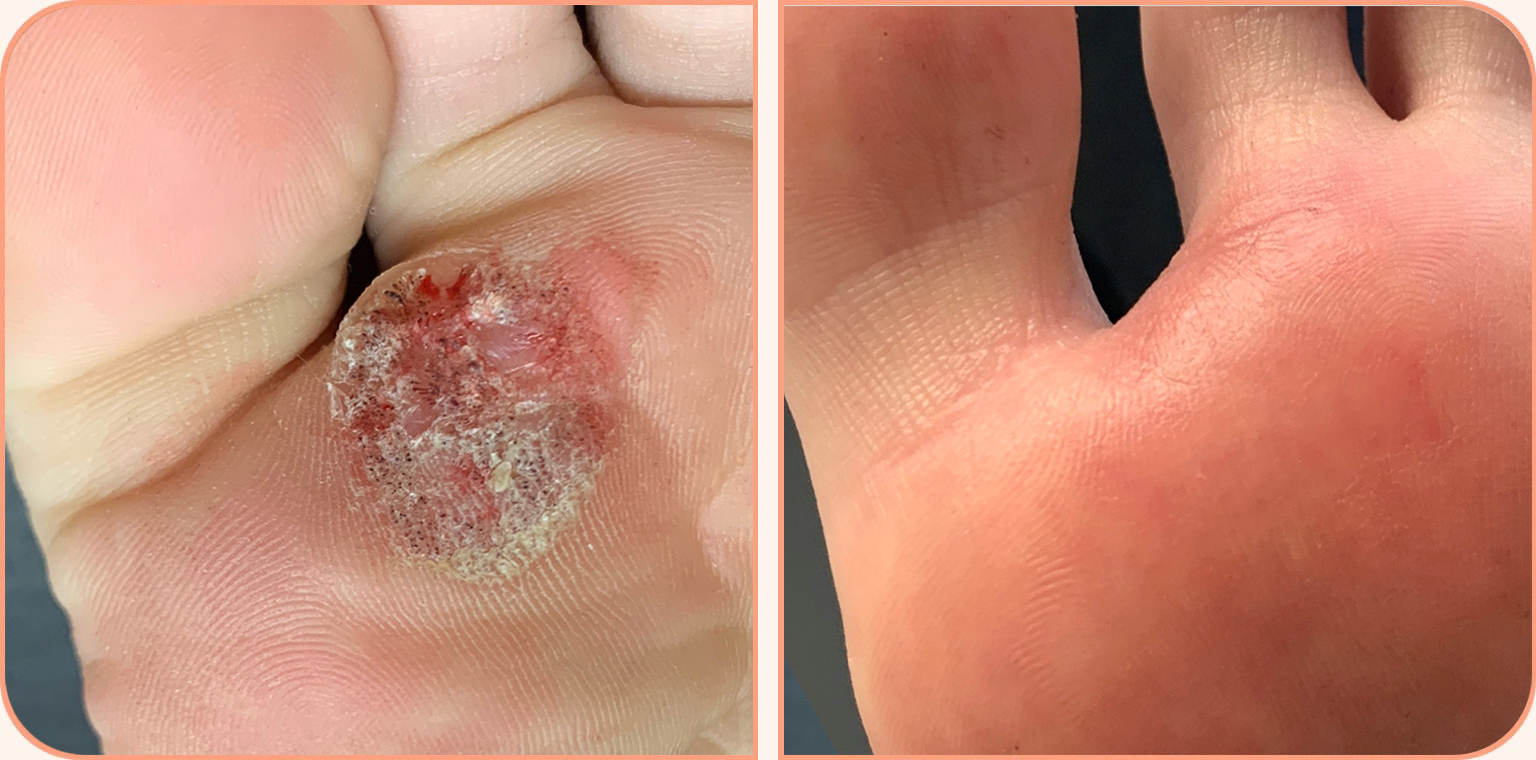 Photo courtesy of Dr. Matt Mahlberg, Centennial, CO.
Photos have not been retouched. Individual results may vary.
Am I a candidate?
If you are bothered by burdensome spots and skin bumps, the CellFX procedure may be right for you. You and your doctor can achieve overall clear skin, restoring your skin to its natural, healthy appearance.
Frequently asked questions
How long does the CellFX procedure take?
Your doctor will schedule the total appointment time required for your visit. The actual time for the CellFX procedure session is typically 15 minutes or less, depending on the number of lesions to clear. Preparation of your skin typically takes a few minutes and each lesion usually requires only 10–15 seconds of pulsing.
Can multiple lesions be treated in one procedure?
Yes, multiple lesions and lesion types may be treated in one procedure session. Each lesion can be treated in a matter of seconds, so it's practical to treat multiple lesions in a single 15-minute procedure. Your doctor will design a treatment plan that works for you.
How soon can I return to normal activity?
Generally, most patients can immediately return to normal activity. Your doctor may recommend wearing a small bandage and/or ointment to protect the area during the initial healing process.
How many visits are needed?
Most lesions can successfully clear with a single procedure session. Your doctor may provide guidance on the number of procedure sessions you may likely need for optimal results. For instance, for more difficult-to-treat lesions, your physician may recommend a second procedure session.
As the healing period progresses, if you believe that the lesion(s) or portion of the lesion(s) remain(s), contact your physician for follow-up.
When will I see results?
Lesions typically clear within 30–60 days. As the lesion clears and new cells regenerate to form a new skin layer, the gradual return to normal skin appearance can take between 60–90 days.
Your doctor will advise what the normal healing time would be for the particular lesion type and your skin type. Larger or deeper lesions may require longer periods of time to complete the clearance and healing process.
REFERENCES 1. Hruza G, Zelickson B, Selim M, et al. Safety and efficacy of nanosecond pulsed electric field treatment of seborrheic keratoses. Dermatol Surg. 2020;46(9):1183-1189. doi:10.1097/DSS.0000000000002278 2. Kaufman D, Martinez M, Jauregui L, et al. A dose-response study of a novel method of selective tissue modification of cellular structures in the skin with nanosecond pulsed electric fields. Lasers Surg Med. 2019;52(4):315-322. doi:10.1002/lsm.23145 3. Munavalli G, Zelickson B, Selim M, et al. Safety and efficacy of nanosecond pulsed electric field treatment of sebaceous gland hyperplasia. Dermatol Surg. 2020;46(6):803-809. doi:10.1097/DSS.0000000000002154 4. Newman J, Jauregui L, Knape WA, et al. A dose-response study of nanosecond electric energy pulses on facial skin. J Cosmet Laser Ther. Published online on October 7, 2020. doi:10.1080/14764172.2020.1827151